In-person rehearsals of the SHC will start on Wednesday, October 11 and will continue until our mid March major concert on March 24, 2024.
All singers are required to show proof of vaccination including the booster shot (unless not yet eligible - less than 6 months since 2nd shot)
Masks are optional.
<! Singers will rehearse using social distancing guidelines.-->
The Board of Directors will continuously monitor the guidelines relative to the pandemic. Adjustments may be made during the season if advisable.
******************************************************************************************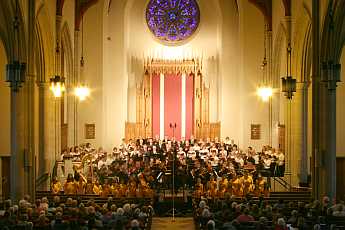 The South Hadley Chorale was founded in 1984 as the South Hadley Community Chorus to celebrate Bach's 300th anniversary. Under the direction of the founder, Dr. Barbara Conant, Bach's Mass in B minor was performed in the inaugural year. We now rehearse each year starting in October and, in March, perform with orchestra and soloists a concert consisting of one or more classical masterworks. Our members are drawn from South Hadley, Massachusetts and surrounding Pioneer Valley communities.
We are pleased to welcome Anita Anderson Cooper as our interim conductor.
This year we are taking part in The South Hadley Cultural Council Festival that is scheduled for the weekend of October 7th and 8th. Our half hour to forty minute program will be composed of short, light works by such composers as Alice Parker and Rollo Dilworth. Prepartion for this will commence on September 13th. The rehearsals for our major concert in March will begin on October 11th. Singers are encouraged to take part in both events but may sing in just the major March concert.
Over the years we have performed a variety of major choral works by Bach, Beethoven, Bizet, Brahms, Bruckner, Dvorak, Handel, Haydn, Mendelssohn, Mozart, Rutter, Schubert and Vivaldi. We continue to welcome new singers. While there are no auditions, most of the men and women have had some choral singing experience. Please contact us for information about how to become a member.
Our Mission
The South Hadley Chorale's mission is to promote choral music in the Pioneer Valley by providing singers of all ages with the opportunity to sing and perform choral repertoire that emphasizes the Baroque, Classical, and Romantic periods while also considering more recent works.
Our Objectives
To be an open chorus: there are no auditions and newcomers are always welcome.
To feature the great choral masterworks of the Baroque, Classical, and Romantic periods, while also including works by more recent composers.
To be intergenerational: members span many decades in age, and we collaborate with children's choruses.
To be educational: members learn about music, composers, and vocal technique, and the children learn about participation in an adult ensemble.
To perform with a full orchestra or other full instrumentation appropriate to the piece.
The Board of Directors of the South Hadley Chorale wishes to affirm that Black Lives Matter.
We are inclusive and welcoming to all who wish to sing with us.