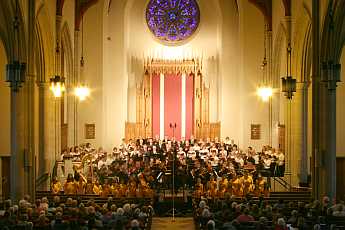 The South Hadley Chorale was founded in 1984 as the South Hadley Community Chorus to celebrate Bach's 300th anniversary. Under the direction of the founder, Dr. Barbara Conant, Bach's Mass in B minor was performed in the inaugural year. We now rehearse each year starting in October and, in March, perform with orchestra and soloists a concert consisting of one or more classical masterworks. Our members are drawn from South Hadley, Massachusetts and surrounding Pioneer Valley communities.
Jonathan Harvey, music director, returns for his fifth season as conductor of SHC. Our 2014-15 season will be a celebration of legendary composer Alice Parker, with a March 15, 2015 centerpiece concert featuring Parker and Shaw's translation of Haydn's Creation with orchestra and professional soloists, and Parker's Children, Saints, and Charming Sounds in collaboration with the South Hadley Children's Chorus.
Over the years we have performed a variety of major choral works by Bach, Beethoven, Bizet, Brahms, Bruckner, Dvorak, Handel, Haydn, Mendelssohn, Mozart, Rutter, Schubert and Vivaldi. We continue to welcome new singers. While there are no auditions, most of the men and women have had some choral singing experience. The cost to members for dues and music is in the range of $65-85. Please contact us for information about how to become a member.
The South Hadley Children's Chorus takes part in our March concert along with appearances in a number of public concerts throughout the year.