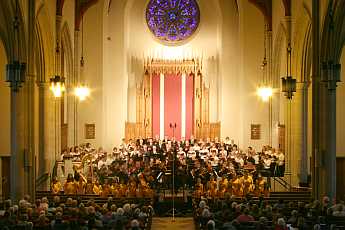 The South Hadley Chorale was founded in 1984 as the South Hadley Community Chorus to celebrate Bach's 300th anniversary. Under the direction of the founder, Dr. Barbara Conant, Bach's Mass in B minor was performed in the inaugural year. We now rehearse each year starting in October and, in March, perform with orchestra and soloists a concert consisting of one or more classical masterworks. Our members are drawn from South Hadley, Massachusetts and surrounding Pioneer Valley communities.
We are pleased to announce that Alexandra (Alex) Ludwig will return for her second year as conductor and music director for the 2019-2020 season.
After a most successful concert of Bach's Magnificat in March, 2019, our March, 2020 concert will feature Bernstein's Chichester Psalms and Eric Whitacre's Five Hebrew Love Songs.
Over the years we have performed a variety of major choral works by Bach, Beethoven, Bizet, Brahms, Bruckner, Dvorak, Handel, Haydn, Mendelssohn, Mozart, Rutter, Schubert and Vivaldi. We continue to welcome new singers. While there are no auditions, most of the men and women have had some choral singing experience. The cost to members for dues and music is $75. Please contact us for information about how to become a member.
Our Mission
The South Hadley Chorale's mission is to promote choral music in the Pioneer Valley by providing singers of all ages with the opportunity to sing and perform choral repertoire that emphasizes the Baroque, Classical, and Romantic periods while also considering more recent works.
Our Objectives
To be an open chorus: there are no auditions and newcomers are always welcome.
To feature the great choral masterworks of the Baroque, Classical, and Romantic periods, while also including works by more recent composers.
To be intergenerational: members span many decades in age, and we collaborate with children's choruses.
To be educational: members learn about music, composers, and vocal technique, and the children learn about participation in an adult ensemble.
To perform with a full orchestra or other full instrumentation appropriate to the piece.